via Open the Future;
A set of photos taken during the recent earthquake in Sichuan province, China, by a wedding photographer who'd just begun taking photos of the bride and groom when the earthquake struck.
Two strike me in particular – one of masonry falling off a church, the other of the bride, resplendent in dress, veil, and dusty debris looking out over the rubble as her new husband is climbing to his feet.
It seems their photos were being taken on some steps outside the church, within which many of their guests remained. You can only imagine the shock – they've just experienced an intensely joyful experience, then, having only recently left the church to have photos taken, they experience horror, as the building, filled with friends and family, collapses behind them. 33 are reported missing or dead.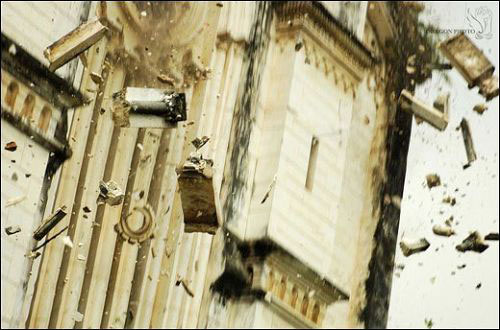 Photos like this, untouched by professional media, give, for me, a much more intense window into events – it was easy to see imagery of rescue workers and devastation on the news and think of it as a distant tragedy, a statistic – this brings it all into so much more focus.
In the post mentioned above, Jamais says 'With every snapshot, every recording, every blog entry, we're documenting our world.' – that's important – it emphasizes the breadth of documentary that crowd journalism can give – if everyone has a camera and a voice, so much more is captured, and so many more perspectives are presented. That said, I think crowd journalism is similarly important for the personal, immediate nature of it – there's an increase in perceived honesty and emotional intensity that you get when you're seeing footage and accounts by people who were actually there, experiencing the event. To some extent, I think this is what makes embedded journalism during wartime so interesting, too..